Artist: Tim James & Aidan Demarais, Good Thunder, MN and Janesville, MN
Website: https://sites.google.com/view/redridgestudio
Tim James: "I paint and sculpt abstractly because it affords me the freedom to express ideas without being tied by visual representations. I like the idea of visual suggestions, an ambiguous story that makes it necessary for the viewer to bring his or her own experiences, relationships, and perspectives to the viewing. My hope is that my paintings and sculptures are interpreted differently by each individual and are developed into unique emotional experiences"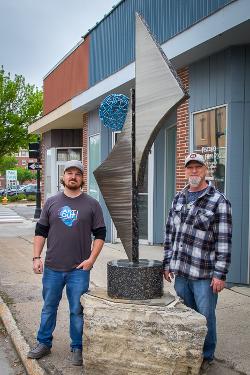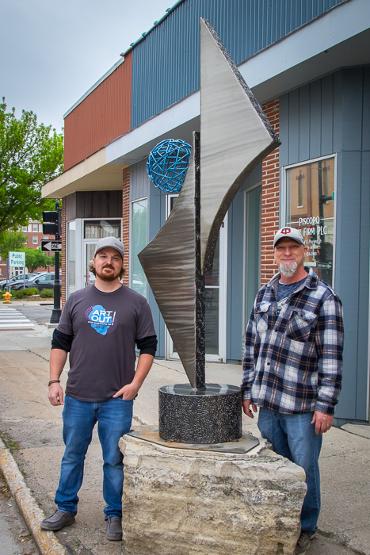 "Windward"
Material: steel
Price: $9,500
Artist Statement: The poetic innocence of a sail set against the horizon on a glassy surface of a watery expanse is an easy sell to most souls. "Windward" is the tantalizing prospect of freedom and adventure.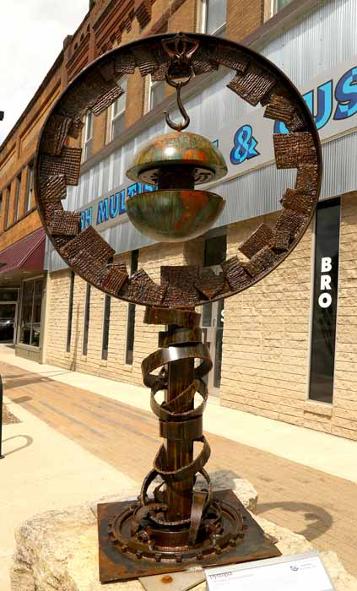 Title: Dystopia

Map: #11, 2020-21 Tour
Materials: Bronze
Price: $8,000
Artist Statement: The inspiration for this project emerged from the objects used to create the sculpture. Each object that was incorporated into the piece had a unique texture and form. Some pieces were test pads created by welding students at Janesville-Waldorf-Pemberton High School. As the sculpture progressed, a repeating circular theme was emphasized. The final sculpture symbolizes the earth supported tenuously by an unraveling foundation and surrounded by the ever-encroaching progress of industry.
Pedestal Sponsor: North Iowa Eye Clinic
9 N Federal Ave, Mason City, IA | 641-423-5724