How to get involved / Support the program
You can support this program, too!
Pedestal Sponsorships: $1,000 annual investment. Name or business is placed on a nameplate at the pedestal location. Pedestal sponsors also receive recognition in the brochure, other marketing materials and are guests at the annual Artist Reception.
FRIENDS Sponsorships: $250 annual investment. Recognition in the brochure and special invitation to the annual Artist Reception.
Sponsorships: Financial contributions in any amount are greatly appreciated and support the program. Send your tax-deductible gift to: River City Sculptures on Parade, Inc., 9 North Federal Avenue, Mason City, IA 50401.
Volunteers: Volunteers are needed to change the exhibits, beautify the pedestal areas, assist with the annual Artist Reception, and more. If you would like to join the team of volunteers, contact Robin Anderson at 641-423-5724.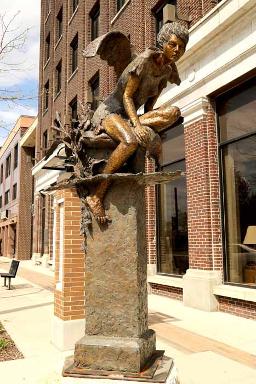 Lost In A Dream
Jack Morford
9 N Federal Ave, Mason City, IA | 641-423-5724